Caltabellotta olive oil
---
Oil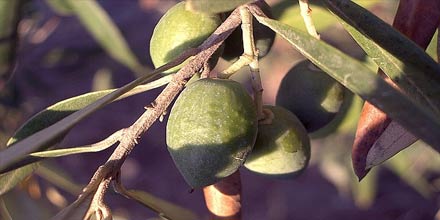 Rodrigo Nuno Bragança da Cunha - CC3.0
Caltabellotta olive oil has been famous since ancient times for its peculiar organoleptic characteristics. It is pressed from a particular variety of native olive, the Buscionetta, belonging to the Biancolilla di Caltabellotta cultivation.
the Biancolilla olive variety is typical of Caltabellotta and is a cultivar of the Val di Mazara PDO, the Biancolilla oil is lightly fruity par excellence, delicate on the palate, light green color just pressed and straw yellow after a couple of months of rest, very fluid with an aftertaste of artichoke, fresh grass or freshly picked green olive.
Biancolilla oil it is excellent for seasoning meat, fish, smoked fish, pate and in desserts used instead of butter or seed oil.
---