Sicilian pine
---
Handmade Product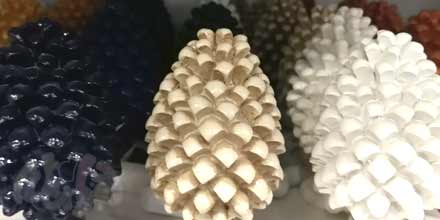 The Sicilian pine cone is a symbol of good luck, health and prosperity.
The pine cone is an object of the Sicilian tradition but its meaning has its roots in the Babylonian, Greek and Roman Catholic cultures. In ancient times the image of the pine cone was associated with the idea of ​​the divine and immortality, being the fruit of an evergreen tree. The concept of the cosmic egg was also associated with it, linked to the theories on the birth and origin of the world and of the human being. Some philosophers, such as Descartes, identified in the pine cone a reference to the full gland: a gland located in the center of the brain which was believed to be the seat of the soul.
The Sicilian tradition also attributes to the pine cone the value of fertility and life-generating force as pine nuts, "the sons" abound inside the pine cone. In fact, in Sicily it was customary to give the newlyweds some pine cones as a wish for prosperity. Today, the ceramic pine cone is now donated on any occasion, it represents an elegant piece of furniture and an ornament that cannot be missing in a home as a wish for health and good luck.
Sicilian ceramic pine cones are artifacts with a high artistic value and require a long and meticulous processing that makes these objects truly unique: the master potters model the bracts of the pine cone one by one using only the fingers of their hands.
---