Curiosities about "Muzzuni"
---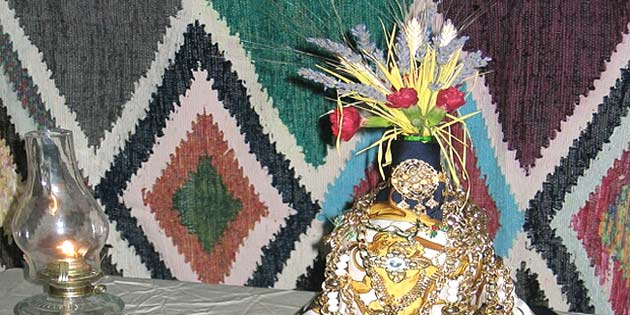 "Muzzuni" is a cult object full of ancient ritual values ​​and the Muzzuni festival in Alcara Li Fusi is the oldest pagan festival in Italy.
The term Muzzuni refers to a jug without a neck, "cut off", or to the grain that is mowed and collected in bundles, "mazzuna". There is also a religious reference to San Giovanni decollato, with his "severed" head.
An ancient propitiatory rite of Greek origin is linked to this cult object with an archaic memory full of ancient symbolic values ​​of agrarian matrix. The rite of Muzzuni shows the distinctive features of the rites dating back to the Hellenic civilization, it is a propitiatory rite to the fertility of the earth, dedicated to the cults of the earth gods: Ceres, Aphrodite and Adonis which are recalled as at the time when the agro-pastoral civilizations of the VI -V sec. to C. they dedicated sacrifices and prayers to propitiate the abundance of the harvest and fertility.
The feast of Muzzuni originally coincided with the Summer Solstice and was celebrated on June 21, but with the advent of Christianity it was moved to June 24, the day dedicated to St. John the Baptist, beheaded martyr. Since then, pagan and Christian elements have been mixed in this rite that has been repeated for centuries.
---