The legendary photo of Robert Capa
---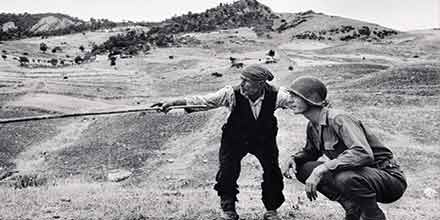 At Contrada Capostrà, in Sperlinga, Robert Capa took one of the most iconic photos of the arrival of the American army in Sicily.
Robert Capa, one of the leading exponents of war reporting, arrived in Sicily in July 1943 with an American army plane. Following his arrival in Sicily, as Capa himself will tell, he met a local farmer, who showed great warmth towards Robert himself and the American soldiers, so much so that he hosted them at his home. Gesture that really struck Robert Capa considering the concerns of the moment.
On August 6, 1943 Capa takes the most emblematic photo of the Second World War: he immortalized the moment when an elderly Sicilian farmer was pointing the way to an American soldier with his stick which led to Sperlinga.
The photo immediately caused a stir and quickly acquired worldwide fame, transmitting a common desire to all Sicilians, the hope that the conflict could end as soon as possible.
---