Festa del Santissimo Crocifisso a Monreale
---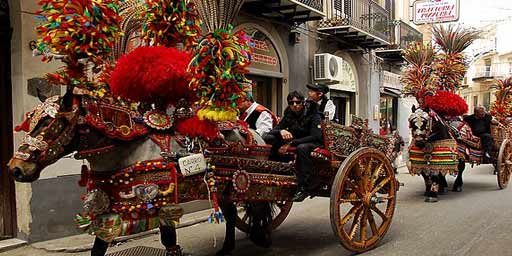 Rino Porrovecchio - CC2.0
The feast of the SS. Crocifisso in Monreale last three days, from 1st to 3rd May. This feast dedicated to the patron saint of the city represents the most important religious event of Monreale.
In the days preceding the feast, the novena is held in which many faithful participate.
During the Numerous folk events are organized on 1 and 2 May: musical bands in the streets of the town, horse races, musical performances, parades of Sicilian carts, flag-waving shows and jousts.
Day 3 May is the culminating day of the festivities. The festivities begin with the traditional descent from the altar of the venerated image which is placed on the Vara. The SS. The crucifix is ​​then placed outside the church and remains on display until the solemn afternoon procession. The wounds of the sacred side are constantly touched by the handkerchiefs of the faithful.
The solemn procession, announced by the festive ringing of the bells of all the churches, goes through all the streets of the city and ends in deep night. Civil and religious authorities and a good part of the clergy also take part in the procession. There are several moments that characterize the procession of the SS-Crucifix: the kiss of the children given to the simulacrum at all stops, the touching with handkerchiefs and flowers the effigy of the SS. crucifix; the arrival at Spasimo, when the SS. Crucifix, after the difficult scinnuta, or descent, is placed in the center of the square with his face stretched out towards the Conca d'Oro to extend his blessing to the area below lush with countryside. The show of fireworks concludes the procession.
During the whole month of May the devotees, who have obtained or ask for some grace, make the traditional journey, redoing it barefoot with a large lit candle wrapped in a paper bag, u coppu, the path taken by the Crucifix day 3.
enjoysicilia.it is in no way responsible for any errors, omissions or changes due to unpredictable factors. We strongly invite you to check for any last-minute changes by visiting the website and social media of the event organizer whose links are indicated in the information field.
---