Festa S Maria Recommended in Giardini Naxos
---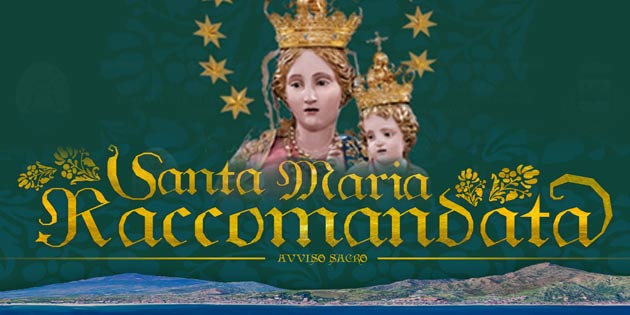 The feast of the Recommended Madonna takes place in Giardini Naxos from 7 to 9 September. The name "Our Lady of the Recommended" was given by the fishermen of the then village of Giardini who "recommended" themselves to the Madonna so that they could return safely from their sea trips.
Preparations for the feast of the Patron Saint of Giardini Naxos begin in the second half of August. According to tradition, August 25 is the "Marian day" dedicated to the Virgin Recommended, the day in which the solemn announcement of the feast is given.
One of the culminating moments of the feast is the solemn Eucharistic celebration at the small port Saja and the re-enactment of the arrival of the statue of the Madonna . It is remembered the arrival on the beach of the Saja district of the simulacrum of the Recommended Virgin, transported from Naples by the Cacopardo Brothers. The "blessing of the boats and the sea" follows.
Day 7 morning the traditional "Scinnuta" takes place: the simulacrum leaves the niche above the altar and slowly descends towards the faithful to the singing of hymns written by devotees. On September 8, the procession of the statue of the Madonna takes place. Back in the church, the statue is left for several hours to be adored by the faithful. Day 9 takes place "l'acchianata" following which the simulacrum returns to its niche above the altar.
enjoysicilia.it is in no way responsible for any errors, omissions or changes due to unpredictable factors. We strongly invite you to check for any last-minute changes by visiting the website and social media of the event organizer whose links are indicated in the information field.
---