Feast of San Giorgio in Modica
---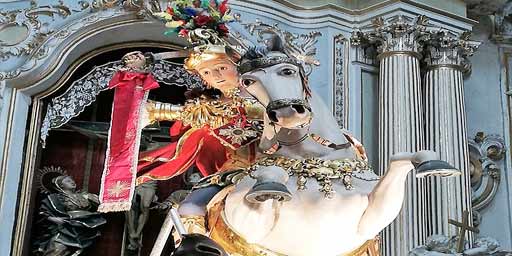 Effems - CC4.0
In Modica, the feast in honor of San Giorgio, co-patron of the city together with San Pietro, takes place on the Sunday following April 23.
In the afternoon of the feast day, the traditional exit of the simulacrum takes place greeted by bursts of leaflets and abundant fireworks, followed by the solemn procession through the city streets.
The peculiar characteristic of this procession is the gait of the Saint: the statue, carried on the shoulders by the faithful, proceeds at a fast pace and in some places is made run to emulate the horse's gallop. During the procession there are some stops necessary to refresh the porters during which food is offered. The return of San Giorgio takes place in the late evening and, after the final fires, the statue of the Saint is made to turn several times between the aisles until the bearers have the strength.
enjoysicilia.it is in no way responsible for any errors, omissions or changes due to unpredictable factors. We strongly invite you to check for any last-minute changes by visiting the website and social media of the event organizer whose links are indicated in the information field.
---