Feast of Sant'Alberto in Trapani
---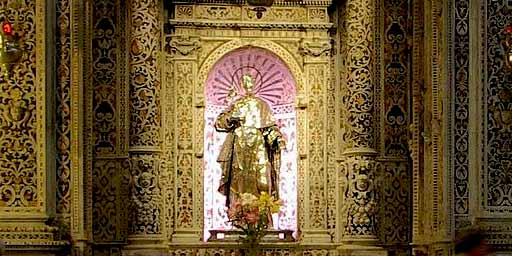 Berthold Werner - CC3.0
In Trapani, on 7 August the celebrations in honor of Sant'Alberto, always considered co-patron by the citizens, are held, together with the Madonna of Trapani.
On the eve of the holiday, according to an ancient tradition, during the Eucharistic liturgy the water in memory of the miracle performed by the Saint in favor of the dying son of King Peter III of Aragon, who was miraculously healed by a sip of water containing small pieces of a Saint Albert's dress.
The feast day the procession of the Simulacrum of Sant'Alberto takes place, which leaves the Sanctuary of the Madonna of Trapani every year aboard a cart pulled by devotees. During the procession there is the ceremony of handing over the keys to the city by the mayor. This is followed by the return of the Simulacrum to the Cathedral of San Lorenzo where the Holy Masses are celebrated in his honor.
On 9 August a second procession takes place which brings the Statue of Sant'Alberto back to the Sanctuary.
enjoysicilia.it is in no way responsible for any errors, omissions or changes due to unpredictable factors. We strongly invite you to check for any last-minute changes by visiting the website and social media of the event organizer whose links are indicated in the information field.
---