Feast of SS. Crucifix in Polizzi Generosa
---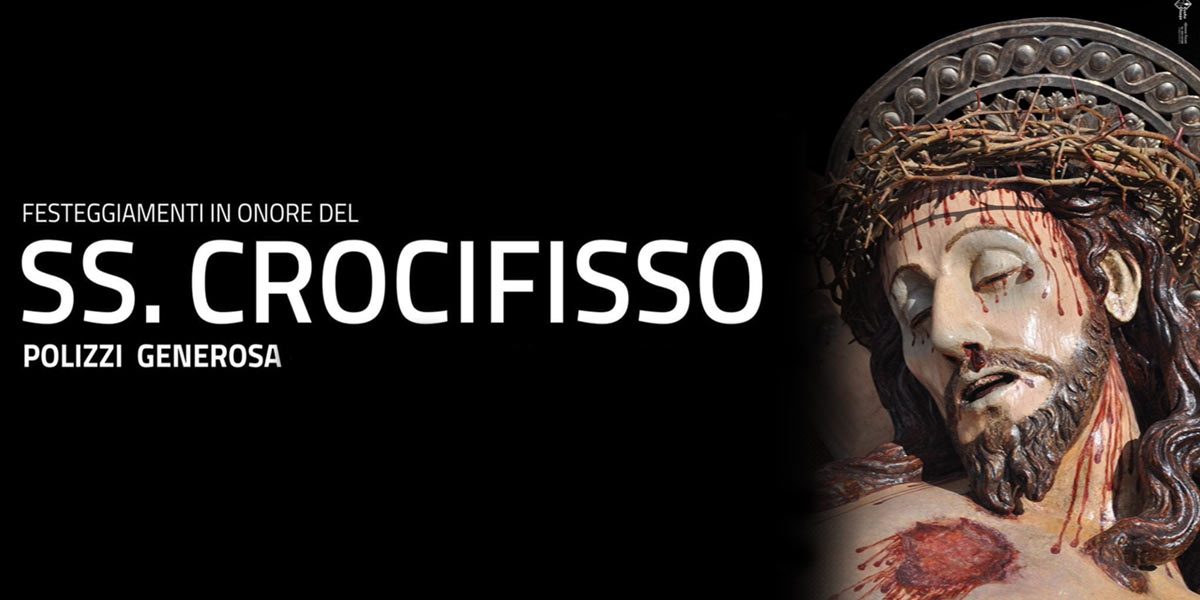 The Feast of the SS. Crucifix is ​​one of the oldest and most heartfelt feasts by the inhabitants of the village of Polizzi Generosa.
The feast begins on May 1st with the "scinnuta du Signuri", that is the "descent of the Lord": the Crucifix is ​​taken from its chapel and brought to the square in front of the Church of the Carmine for the blessing of the crop fields. The statue is then placed back on the main altar of the church. On the afternoon of May 1st, in the house "du dipusitariu", that is the person responsible for the celebrations, the bread is blessed, arranged in a cross, which in the following days will be distributed to the faithful.
On the morning of May 2, Masses are celebrated and in the early afternoon the band goes through the main streets of the town. In the evening, around 9 pm, a simulacrum of the Crucifix "u nicu", a work of the seventeenth century, is carried in procession following a pre-established itinerary. The day ends with fireworks.
On May 3rd the celebrations begin before dawn, at 4 am the "furriata du Patri Nuastru" takes place during which a musical band goes around the town singing cheerful motifs that wake up the population. About two hours later, a large group of devotees queues up to the band and the "arricugghiuta do tira" begins, that is the collection of wax torches, during which the faithful, welcoming the musicians and offering them to drink and eat, donate the candles that are lit at the foot of the Most Holy Crucifix. In the afternoon, around 5 pm, a solemn procession starts during which the simulacrum of the Crucifix adorned with flowers and lighted candles is carried by the so-called "nudes", devotees dressed in white with a red sash tied at the waist. Also this evening ends with fireworks.
On the morning of May 4th the party ends with yet another "scinnuta du Signori", which is brought out again for the blessing of the countryside and the greeting to the devotees. At the end, the Holy Crucifix is ​​replaced in its chapel and a Holy Mass is celebrated, after which the new depositary is proclaimed.
enjoysicilia.it is in no way responsible for any errors, omissions or changes due to unpredictable factors. We strongly invite you to check for any last-minute changes by visiting the website and social media of the event organizer whose links are indicated in the information field.
---