Easter in Ferla
---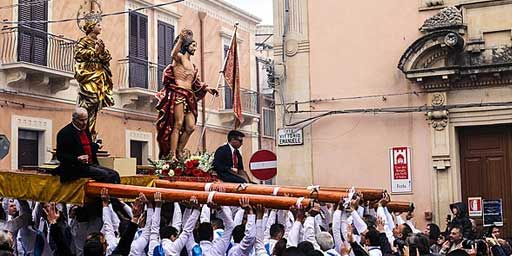 BeatriceB98 - CC4.0
During the celebrations for Holy Easter in Ferla there are numerous traditional religious appointments that mark the entire Holy Week.
On Palm Sunday a procession takes place where all the faithful go to hand olive branches and palms, and the traditional blessing of the palms.
On Holy Wednesday the procession of u Signuri 'a canna takes place, in which the simulacrum of Christ is carried on the shoulders through the streets of the village.
On Holy Thursday the traditional visit to the tombs takes place in all the churches of the village.
On Good Friday strong> the procession of the Addolorata and of the Signori a Cruci, i.e. of the Lord on the Cross, takes place first, at the end of which the body of Christ is taken down from the cross and placed in the cascia, the urn, and still carried in procession through the streets of the village.
On Holy Saturday the simulacrum of Our Lady of Sorrows , at the search for the Son, is carried in procession through the streets of the historic centre. An hour before midnight, the procession of the Risen Christ begins along a path lit by torches.
The solemn celebration takes place on Easter Sunday at dawn. At the end of the latter, the procession of Our Lady of Sorrows continues in search of her Son. At noon, between the launch of colored ribbons and the shooting of fireworks, in the main square, the long-awaited Scontru, Meeting, takes place among the simulacra of Jesus and of the Madonna. In the evening the festivities end with the procession on a triumphal chariot of the Risen Christ and the Madonna.
enjoysicilia.it is in no way responsible for any errors, omissions or changes due to unpredictable factors. We strongly invite you to check for any last-minute changes by visiting the website and social media of the event organizer whose links are indicated in the information field.
---