Easter Arches in San Biagio Platani
---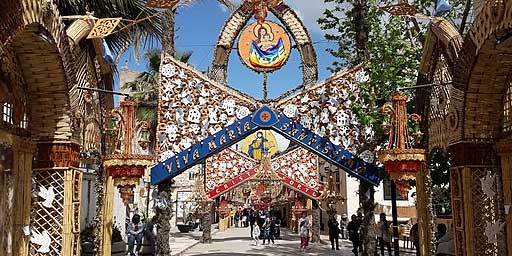 HaguardDuNord - CC4.0
On the occasion of Easter, the spectacular and traditional Easter Arches are set up in San Biagio Platani. These are monumental natural arches made with reeds, agaves, willows, laurel, rosemary and palm branches which are decorated with bread sculptures. On Easter day, the arches form the backdrop for the encounter between the simulacra of the Risen Christ and the Madonna, but remain set up until the month of May, enriching the historic center with structures, up to thirteen meters high, which follow the fountains, the portals and facades of churches and palaces.
Discover the origins and the symbolic meaning linked to the Easter Arches of San Biagio Platani.
enjoysicilia.it is in no way responsible for any errors, omissions or changes due to unpredictable factors. We strongly invite you to check for any last-minute changes by visiting the website and social media of the event organizer whose links are indicated in the information field.
---