Fountain of Orion in Messina
---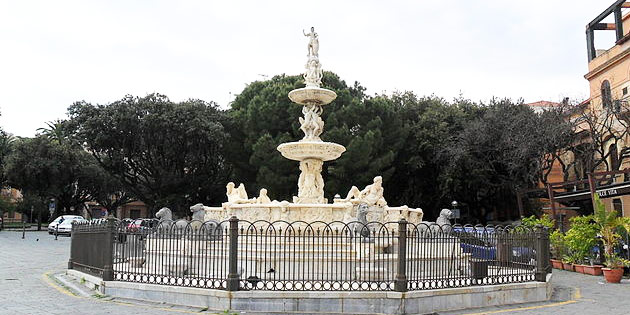 Hajotthu - CC3.0
 Piazza Duomo - Messina (ME)
The Fountain of Orion, located in Piazza Duomo in Messina, is one of the symbolic monuments of the city and has been defined the most beautiful fountain of the sixteenth century in Europe by the art historian Bernard Berenson.
It was built, at the behest of the Messina Senate in 1547, based on a project by the Florentine architect and sculptor Giovan Angelo Montorsoli, in order to celebrate the construction of the first Messina aqueduct that conveyed the waters of the two city streams, Camaro and Bordonaro .
The fountain contains two figurative messages, on the one hand, it aims to glorify Messina and, on the other, it contains an implicit homage to the emperor Charles V, who had launched a series of initiatives in favor of the city, such as the expansion of the defensive walls.
The Fountain of Orion has a pyramidal structure with overlapping basins at the top of which is placed Orione with his dog Sirio. The dodecagonal base is an allusion to the fortified city defended at the outer corners by monstrous figures in dark stone. On the outermost basin are the statues of the three rivers considered to be the most important at the time, the Tiber, the Nile and the Ebro, flanked by the Peloritan Camaro stream. Under the four statues there are four bas-reliefs with explanatory scenes, interspersed in the intermediate spaces with other reliefs depicting mythological episodes. In the trunk, four Tritons support a second smaller tank. Inside this there are four Naiads supporting an even smaller cup, which is surmounted by four sculptures of cherubs riding dolphins and by the statue of Orion with his dog Sirio, the mythical founder of Messina.
L ' work was so appreciated that the Messina Senate decided to commission a second fountain from the sculptor, now known as the fountain of Neptune.
Close to me
---
---
---