Baia del Tono beach in Milazzo
---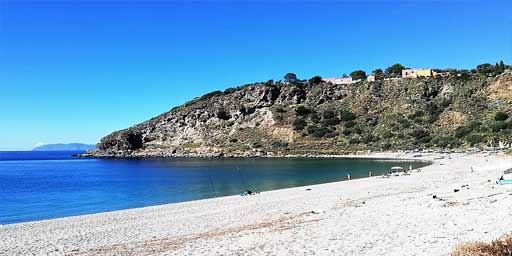 Effems - CC4.0
The Baia del Tono di Milazzo is located in the final part of the Ponente seafront of the city of Milazzo.
The beach is called by the locals "Ngònia", an ancient Greek term to indicate a corner, precisely because the coast, straight for a few kilometers, curves all of a sudden, bending with the rocky ridge. Here the sea is blue and full of fish, it is the place where one of the largest tuna traps in Milazzo stands. In front of the sea there are instead the buildings that belonged to two aristocratic families, owners of the Tonnara del Tono, the D'Amico and the Calapaj. The building next to the church was commissioned in 1815 by Domenico Calapaj. Behind the church, a steep staircase allows you to reach the Manica district on foot. From here you can admire the 'Ngònia, the Castle and the entire Riviera di Ponente.
La Baia is a pebble beach, with a splendid view of the Aeolian Islands and with Mount Etna dominating the panorama. In this area the sea is generally calm and therefore also suitable for families with children and inexperienced swimmers. The beach alternates areas equipped with all the services for bathers to free areas.
Close to me
---
---
---