Cathedral of San Giorgio in Modica
---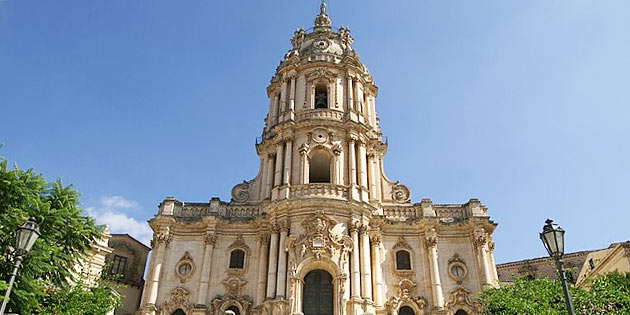 Giuseppe Scandura
---
The Cathedral of San Giorgio is the Mother Church of the city of Modica and is included in the World Heritage List of UNESCO. It is often referred to as the symbolic monument of Sicilian Baroque, of which it represents the most scenographic and monumental architecture.
The Church of San Giorgio is located in a scenographic position, located between the upper and lower parts of the city, with the façade facing west at the center of a city built on irregular shelves connected by stairways and winding climbs with large spaces.
The first source that speaks of existence of the church is a papal bull from 1150 of Pope Eugene III, although, according to tradition, the church was founded by Count Roger and, in memory of this event, inside, above the main portal, the armor of the Count is exposed Ruggero d'Altavilla, the leader of the Normans and the legendary founder of San Giorgio. The building is the final result of the reconstruction that took place following the disastrous earthquakes that struck Modica in 1542, 1613 and 1693.
The imposing tower facade rises to an overall height 62 meters long and crowned with the affixing of an iron cross on the spire. A spectacular staircase of 181 steps leads to the five portals of the temple, which serve as a prelude to the five internal naves of the church. The front perspective of the whole is enriched by a hanging garden on several levels, called Orto del Piombo, flanked by the monumental staircase. The facade shows surprising analogies with the contemporary Katholische Hofkirche in Dresden.
The interior of the church is divided into five naves by means of columns and pillars surmounted by Corinthian capitals, the surfaces present a pictorial cycle in the vaults and a refined decorative apparatus in stucco.
Of considerable value is the Polyptych which occupies the entire back wall of the apse, attributed to Bernardino Niger. It is the largest polyptych of medieval-Renaissance tradition present in Sicily with the exception of the marble one by Gagini in the Cathedral of Palermo, which has been lost. The Polyptych is made up of nine squares arranged in three orders plus the lunette, on the top, where God the Father is represented. The large frame in carved and gilded wood with mannerist elements is elegant and extremely rich.
One of the most significant works kept in the church is the canvas depicting the Assumption painted by the Tuscan painter Filippo Paladini, a work dated 1610.