Feast of San Giuseppe Balestrate
---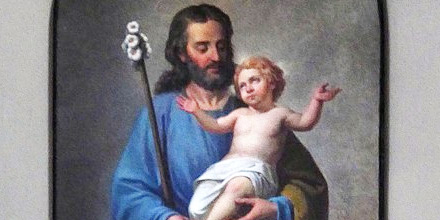 Syrio - CC4.0
Traditions
The Feast of San Giuseppe in Balestrate represents one of the popular traditions dearest to the inhabitants of this village. On the occasion of the feast of the Holy Father in Balestrate the traditional canteens and altars are set up.
The canteens, placed in front of the altars, are made up of various courses based on vegetables, fish, fruit and desserts, including cannoli, sfince di San Giuseppe, cassatelle with ricotta or chickpeas, cassata, pignolata and blancmange.
The altars of San Giuseppe, on the other hand, are richly decorated with festoons, ribbons and flowers which frame the painting of San Giuseppe placed in the centre. The main element of the altars is the bread of San Giuseppe, prepared with a dough to which fennel seeds are added. St. Joseph's bread is made with particular shapes: the dove, symbol of peace; the eagle, symbol of justice; the butterfly, the bird, the peacock, the sun, the moon and the stars, symbols of the beauty of creation. Next to the houses where the altars of St. Joseph are set up, bonfires are lit. It is a custom that dates back to pagan cults, to fertility propitiation rites, being March 19 the day before the spring equinox.
enjoysicilia.it is in no way responsible for any errors, omissions or changes due to unpredictable factors. We strongly invite you to check for any last-minute changes by visiting the website and social media of the event organizer whose links are indicated in the information field.
---