Feast of San Nicolò Politi in Alcara li Fusi
---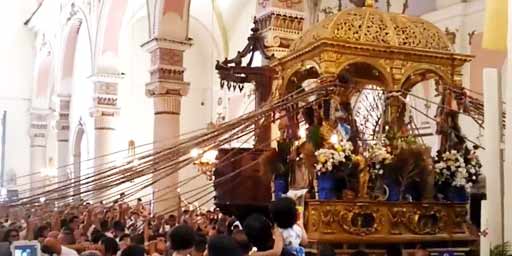 In Alcara Li Fusi, the patron saint San Nicolò Politi is celebrated twice a year: on May 3 and August 17. According to tradition, the holy anchorite originally from Adernò, today Adrano, lived for thirty years in prayer in Alcara Li Fusi, inside a small cave and as a reference monastery he chose the Monastery of Santa Maria del Rogato.
The festival that takes place in the first days of May dates back to the sixteenth century and was born to commemorate the event of the "miracle of the rain": according to popular tradition on May 10, 1503, at the end of the religious services, with which the faithful asked God for the grace of rain through the intercession of the pious anchorite, numerous clouds rose in the sky and miraculously began to rain. The fields were irrigated and in the following months gave an abundant harvest.
The celebrations of May begin on day 1 with the pilgrimage of the faithful to the Holy Water on the slopes of Mount Calanna where, incorporated in a chapel, is the miraculous spring that it is said the Saint made it gush with his stick thanks to divine help, during his wanderings on the Nebrodi. On the morning of May 3, at the end of the Holy Mass, the procession of the statue of the Patron Saint takes place through the streets of the town.
enjoysicilia.it is in no way responsible for any errors, omissions or changes due to unpredictable factors. We strongly invite you to check for any last-minute changes by visiting the website and social media of the event organizer whose links are indicated in the information field.
---