Easter in Caltagirone
---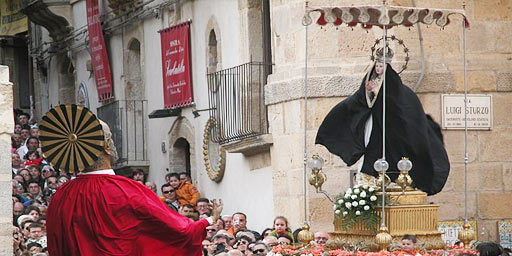 giopuo - CC2.0
Holy Week in Caltagirone is followed by a series of traditional and suggestive representations: on Palm Sunday the Passion of Christ takes place, on Good Friday the Procession of the Dead Christ, and on Easter Sunday "'a Giunta".
La Palm Sunday takes place the sacred representation of the Passion of Christ which opens the rites of Holy Week in Caltagirone. All the scenes are set in the historic center, begin in the churchyard of the Cathedral, continue in Piazza Municipio where the trial of Pilate takes place, and end at the top of the Staircase of Santa Maria del Monte, which represents Mount Calvary, where the touching moment of crucifixion. The music accompanies all the sacred representation that takes place with the live recitation of the actors wearing accurate period costumes.
On Good Friday there is the procession of the dead Christ and the Addolorata accompanied by the religious and civil authorities, within the historical parade of the civic Senate.
Easter Sunday the traditional representation "'a Giunta", that is the "reunion", takes place. This ancient tradition foresees that the colossal statue of St. Peter, about 3 meters high, reaches the statues of the risen Jesus and his mother Mary in Piazza Municipio. The three figures walk in procession through the streets of the historic center and in Piazza Marconi, near the Church of San Pietro, the so-called "spartenza", or "separation" takes place.
enjoysicilia.it is in no way responsible for any errors, omissions or changes due to unpredictable factors. We strongly invite you to check for any last-minute changes by visiting the website and social media of the event organizer whose links are indicated in the information field.
---