Lake of Piana degli Albanesi
---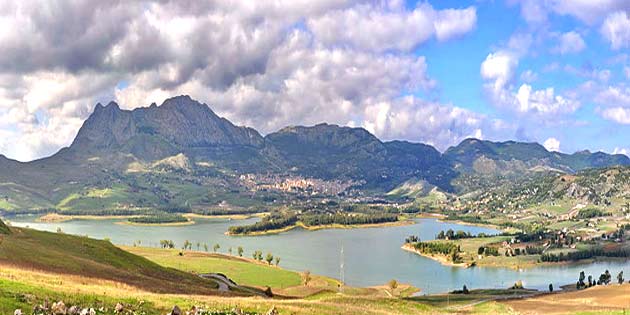 Demetrio46 - CC3.0
 Piana degli Albanesi (PA)
The Lake of Piana degli Albanesi is the oldest artificial reservoir in Sicily, created by blocking the course of the Belice river with a stone block dam.
There are numerous testimonies within the area of the characteristic vegetation of the wetlands of Sicily: the typhus and the scipetus. The surrounding landscape is characterized by the presence of rich pastures of perennial grasses and Mediterranean meadows. Around the banks, near the numerous rivers that flow into the lake, you can admire specimens of red and white willows, black poplars, tamarisks and Aleppo pines.
The fauna is very varied, among the most widespread specimens we mention : the marsh tortoise that lays its eggs in the most sandy shores and the wild boar that likes to frequent the muddy pools that at times extend along the shores of the lake. Numerous bird species appear during the mild seasons, while the gray heron and the great grebe are now permanent species thanks to the presence of the lake carp, which ensure a meal throughout the year. It is also possible to spot various species of birds of prey in the area.
The perimeter is crossed by very suggestive paths that attract many running or two-wheel enthusiasts. The stretch of water has also been used several times for important international canoe championships . There are several equipped areas , but the one with services is located a short distance from the Piana degli Albanesi Dam.
Close to me
---
---
---