Sistema delle Piazze in Gibellina
---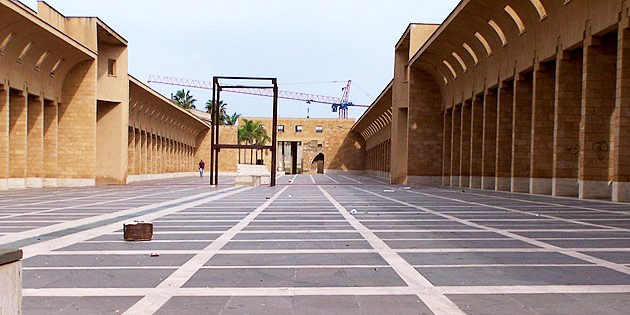 Giuseppe Scandura
---
The System of the Squares of Gibellina , designed by Franco Purini and Laura Thermes , is a large urban structure, an alignment of five squares placed in perspective sequence , emphasized by the repetition of key elements, each time different. The names of the squares are linked to significant historical events in this part of Italy: Piazza Rivolta of June 26, 1937, Piazza Fasci dei Lavoratori, Piazza Monti di Gibellina, Piazza Autonomia Siciliana, Piazza Portella della Ginestra.
The squares are surrounded and surmounted by lateral architectural structures: the market portico . This, of classical origin, extends in depth along two of the three linked squares, with the sole exception of the northern square, bordered on one side only by a lower portico; the pitch of the portico span corresponds to the modular system of the flooring, made of two-tone granite to highlight the geometric writing of this Mediterranean-colored place.
For the realization of this architectural work, different materials were used, each characterized by a different colors: the yellow tuff of Mazara, the lava stone of Etna, the white travertine of Alcamo and the red stone.