Corso Umberto of Taormina
---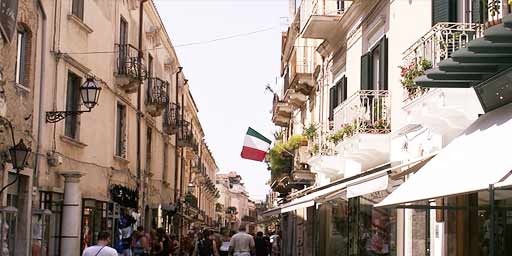 CaSclafani - CC4.0
---
Corso Umberto I is the main street of Taormina. It is named after Umberto I of Savoy, king of Italy from 1878 to 1900. The course, bordered to the north by Porta Catania , offers us evidence of styles from different eras, from the Arab to the Norman, from the Gothic to the Baroque.
In Roman times this road was an integral part of the Via Valeria which crossed the city and then descended towards the sea, connecting Messina with Catania.
Over time, the route has witnessed numerous changes:most of the monuments from the Greco-Roman period have given way to new constructions. In place of the temple of Jupiter Serapis today stands the Church of San Pancrazio; on the remains of the Odeon, the Church of Santa Caterina was born. In addition, palaces and churches have arisen that have formed the current historic center.
Today Corso Umberto I is a splendid pedestrian street full of shops and typical bars.