Taormina Cathedral
---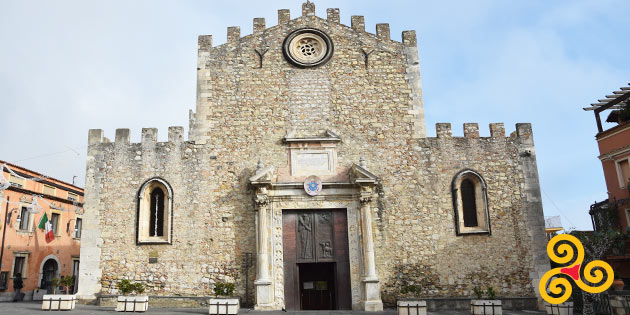 Eutrope - CC3.0
---
The Cathedral of Taormina is often referred to as the Fortress Cathedral as it is made entirely of large stone blocks and completed by battlements along the entire perimeter of the building. The Cathedral was built around 1400 on the ruins of a small medieval church dedicated to San Nicola di Bari.
The facade is embellished with a large rose window made with Syracuse stone. Two other rose windows are located on the east and west facades of the church. Of particular interest is the main portal, renovated in 1636, which has two Corinthian-style fluted columns resting on high bases and, above the architrave, a broken pediment, while the faces of two angels peek out above the capitals of the columns. The jambs, which bear eleven figures on each side, are the original ones of the oldest portal.
The interior is that of a Latin cross church with three naves and three apses. In the two lateral ones there are the six minor altars. The three naves are separated by some columns in pink Taormina marble which, according to legend, were taken from the Greek Theater, surmounted by capitals decorated with leaves and fish scales. The central nave is covered by a carved wooden ceiling that re-proposes Arab themes interpreted with a Gothic taste.
In the church you can find works of moderate value ranging from the Byzantine period to the Renaissance, up to the Baroque. In the right aisle, there is the Visitation with San Gregorio and San Zaccaria by Antonino Giuffrè, a work of 1457, a painting belonging to the Sicilian Renaissance school. Also in the same nave is the unmade Madonna, a work painted on wood with ornamental motifs in silver. One of the most interesting works is the Polyptych by Antonello de Saliba, a work of 1504 made by the grandson of Antonello da Messina. The Polyptych is made up of five tablets enclosed in an inlaid wooden frame. In the central panel there is the Virgin Mary and Jesus between San Girolamo and San Sebastiano. At the top, in the center, is the Deposition of Christ and on the sides Sant'Agata and Santa Lucia. In the frame below, the Last Supper.