Bella island in Taormina
---
---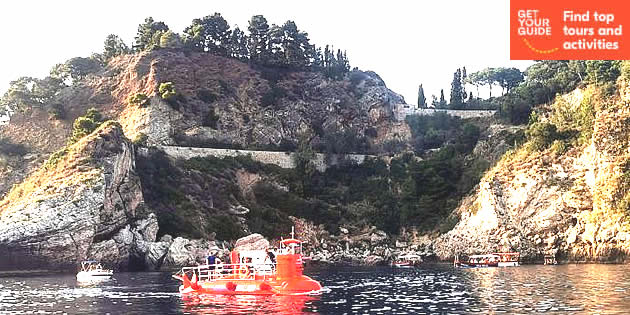 Explore the wonderful seabeds of Giardini Naxos, Taormina, and Isola Bella aboard a semi-submarine. Enjoy underwater views through the large submerged windows, and visit the Blue Grotto.
---
Isola Bella of Taormina has become, together with the Greek Theater, the symbol of Taormina.
The first historical references on the islet are in 1806, when Ferdinand I of Bourbon, King of the Two Sicilies, donated it to the Municipality of Taormina. The island was subsequently purchased around 1890 by a wealthy English noblewoman, Florence Trevelyan, for a sum of 14,000 lire. Lady Florence Treveylan was exiled to Sicily by Queen Victoria of England, because she was the lover of her cousin and future King Edward VII. Here she will then marry the Taormina surgeon, prof. Salvatore Cacciola.
Lady Florence Treveylan is responsible for most of the beauties present on the island today. In fact, taking advantage of her passion for plants, Lady Treveylan planted tropical plants of absolute value on the islet which, mixing with the Mediterranean vegetation on the island, still form a unique scenario in the world today. Lady Trevelyan also built a small house on the islet surrounded by greenery in which she spent the hottest hours of the day.
Lady Florence is also responsible for the construction of the Villa Comunale di Taormina which, originally, was the park of his home.
The islet was thus abandoned for some decades, until, in 1954, it was bought by the Bosurgi family of Messina, owner of an important factory, Sanderson, a company of citrus fruit processing. When the islet was bought by the Bosurgi family, they, acting on the construction ban imposed by the municipality, built a house set among the stones and covered with dense vegetation. In 1998 the island was declared a nature reserve, and in 2011 the Regional Naturalistic Museum of Isolabella was established.
Starting from the center of Taormina, Isola Bella can be reached by Beachbus or by the Taormina cable car.