Motta Camastra Walnut
---
Agricultural Product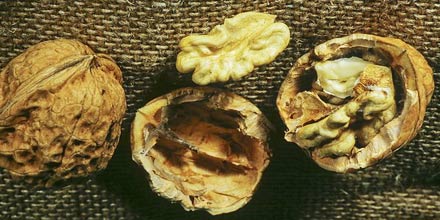 Inra Dist - CC2.0
The Motta Camastra walnut is a typical product of the Motta Camastra area. The Mottese farmers have always found the ideal conditions for the development of this production which over the years has affirmed its typicality with respect to numerous national and international walnut crops.
Motta Camastra walnuts are mostly consumed as fruit dry, or chopped and converted into good oil both from a food point of view and as a drying oil in painting.
The cultivation of Motta Camastra walnuts is characterized by three varieties called Pacenzia, Panuzzara and Currò. The Pacenzia walnut has a fruit of medium-small size, the Panuzzara variety has the size of a small loaf and can reach a cross section of 6 centimeters and finally the Currò walnut, of medium-large size.
---