Submerged Roman Port in Lipari
---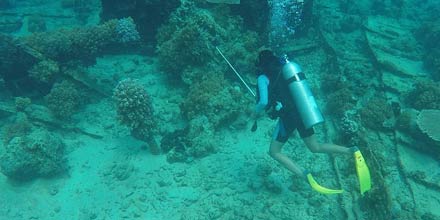 Dwi sumaiyyah makmur - CC4.0
The Ancient Submerged Roman Port of the island of Lipari is located in the center of today's Sottomonastero port area, near the dock for hydrofoils.
They are very interesting submerged structures have been identified: colossal bases of columns and imposing wall structures formed by regular blocks. These structures have been attributed to a Roman-era arcade which was probably located at the entrance to a large port . In the submerged pier there are still the remains of the typical stone mooring rings and sections of pavement, still in excellent condition. The portico, on the other hand, is made up of several levels, on which numerous capitals of columns have been found, including overturned ones.
From the studies carried out, it is believed that the main cause of the submersion of the pier are volcano-tectonic movements and it has been calculated that the pier was submerged in the 4th century AD. This estimate seems to be in agreement with the dating of some ceramics found inside the sediments that cover the pier.
Close to me
---
---
---