Aci Catena
---
Things to do, attractions, interesting facts
---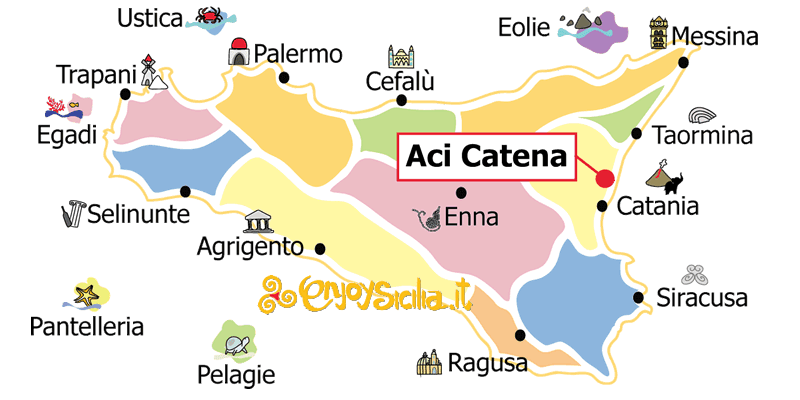 Area: Catania and Etna
Aci Catena, nestled in the valley of the Aci river, is a place particularly rich in culture, history and traditions.
Ancient spas, evocative hermitages, characteristic mills, churches and sanctuaries enrich its territory.
The toponym of the Municipality, which was established in 1826, derives from the cult of Maria SS. della Catena, to which the Mother Church, existing since the 16th century, is dedicated, and to which the people are bound by a strong devotion.
Things to do
Tour, Experience, Tastings,...
---
Traditional Festivals, Events, Live Show,... Aci Catena
---
What to eat
Typical food, local wines and drinks, traditional dish to taste in Aci Catena
You can obviously taste all the typical products of Sicilian cuisine, the most well-known ones, such as cannoli, Sicilian cassata, arancini, etc. But there are some specialties typical of this area that are more difficult to find in other areas of Sicily.
Where to stay
Best Offers of Vacation Rental, hotel, B&B where to sleep in Aci Catena
---
Nearby Places
---
Below you will find a list of the most beautiful places to visit in the surroundings of Aci Catena. The places are located at a maximum distance of about an half hour by car. Good fun!