Novara di Sicilia
---
Things to do, attractions, interesting facts
Useful information to fully enjoy your visit to Novara di Sicilia. Attractions to see, Traditional Festival, events and things to do to have fun, food to taste, which items to buy, which interesting facts to know and where to stay on vacation in Novara di Sicilia.
---
Effems - CC4.0
Novara di Sicilia is one of the most beautiful villages in Sicily, it is located on the border between the Peloritani mountains and the Nebrodi mountains, and is surrounded by lush nature.
The history of this ancient Sicilian village is linked to Arabs, Normans and Cistercians, who over the centuries have contributed to making this village unique.
The historic center of Novara di Sicilia fascinates with its narrow streets paved with cobblestones and sandstone, with its characteristic houses, its splendid churches, and for the refined arches and decorations.
Novara di Sicilia is the homeland of the Maiorchino, a very tasty Sicilian cheese.
Events
---
Interesting Facts
---
Interesting and fun facts, mythology, legend, folk tales and more to know about Novara di Sicilia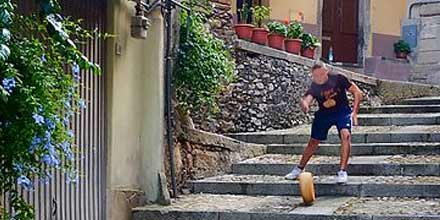 The Gioco del Maiorchino, a tournament that has been organized in Novara di Sicilia for over 400 years, has obtained a UNESCO recognition.
Nearby Places
---
Below you will find a list of the most beautiful places to visit in the surroundings of Novara di Sicilia. The places are located at a maximum distance of about an half hour by car. Good fun!