Brolo
---
Things to do, attractions, interesting facts
Useful information to fully enjoy your visit to Brolo. Attractions to see, Traditional Festival, events and things to do to have fun, food to taste, which items to buy, which interesting facts to know and where to stay on vacation in Brolo.
---
Riccardo - CC2.0
Brolo is a suggestive village located along the Tyrrhenian coast, surrounded by the Nebrodi mountain range and by a vast plain of gardens that slopes down to the sea.
The ancient village was built and developed around the Castle where over the centuries they ruled various lordships including the Aragona, the Lancia and the Longarini.
The upper part of the town, narrow by the walls, is characterized by the narrow and winding alleys interrupted here and there by the characteristic stairways and still retains the charm of the past intact.
The lower part of the town is lapped by a splendid sea.
The city of Brolo is part of the Circuito dei Borghi Marinari, a consortium engaged in the promotion and protection of the sea, the culture and traditions associated with it.
Events
---
Interesting Facts
---
Interesting and fun facts, mythology, legend, folk tales and more to know about Brolo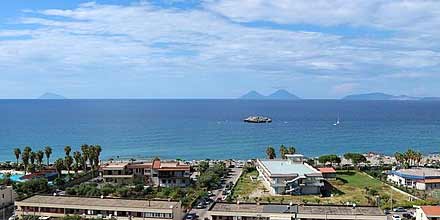 The name "Brolo" probably originates from the Latin term "brolium", which means garden.
Nearby Places
---
Below you will find a list of the most beautiful places to visit in the surroundings of Brolo. The places are located at a maximum distance of about an half hour by car. Good fun!