Montalbano Elicona
---
Things to do, attractions, interesting facts
Useful information to fully enjoy your visit to Montalbano Elicona . Attractions to see, Traditional Festival, events and things to do to have fun, food to taste, which items to buy, which interesting facts to know and where to stay on vacation in Montalbano Elicona .
---
Erm67 - GFDL
Montalbano Elicona is a beautiful village nestled in the Peloritani mountains, famous for its castle that stands on a rock overlooking the small town.
The village is made up of small houses, located on outcrop rock spurs, one leaning against the other, which create a picturesque labyrinth of late medieval alleys and overpasses.
In its territory is the Argimusco, a naturalistic and archaeological site, which represents one of the most mysterious and evocative places in Sicily.
A rich historical heritage, prehistoric remains and centuries-old woods characterize the village.
Events
---
What to see
---
Attractions to see in Montalbano Elicona
Interesting Facts
---
Interesting and fun facts, mythology, legend, folk tales and more to know about Montalbano Elicona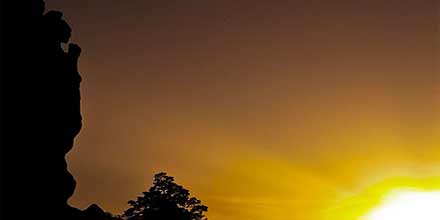 The charm of the sculptures of Argimusco and in particular that of the "Praying Woman" has led to the birth of a legend.
Nearby Places
---
Below you will find a list of the most beautiful places to visit in the surroundings of Montalbano Elicona . The places are located at a maximum distance of about an half hour by car. Good fun!